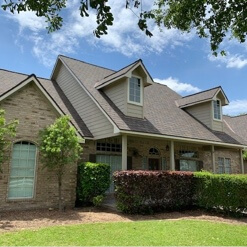 Residential Roofing in Katy, TX
Residential roofing repairs and replacements are an investment in your home. That's why it's so important to choose a dedicated roofing contractor who has the experience to ensure that your roof will protect the inside of your home for years to come. Advantage Roofing in Katy, TX has the expertise you need for the highest-quality in residential roofing services.
We earned our 5-star Google rating the old-fashioned way – with hard work, great customer service, and attention to the small details.
Your Roof's Job is to Protect Your Largest Investment
Your home is likely the largest investment you'll ever make. It's important to protect your home from the elements, such as hail, wind, rain, and other severe weather impacts.
The roof of your home should offer full protection of everything underneath it. The rafters of your home, the walls and floors of your home, and everything you've worked so hard for should be able to count on your roof to stay dry.
It's understandable that the tiniest leak in your roof would create a bit of anxiety for you. A roof leak can quickly add up to thousands or even tens of thousands of dollars to correct. It's important to have your roof evaluated from time to time by a licensed and experienced residential roofing contractor.
A roof inspection and storm damage inspection might detect problems that may not be immediately noticeable to you and could save you major headaches down the road.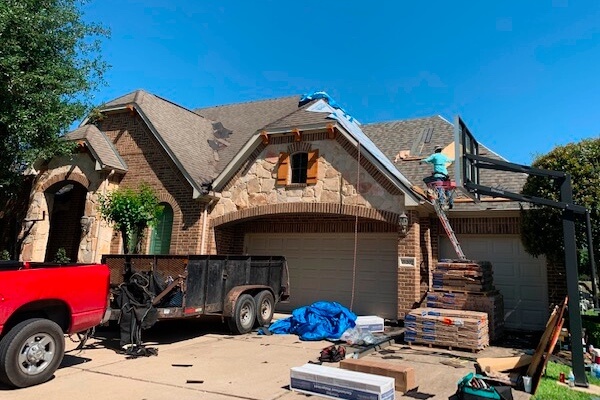 Aesthetics Count When it Comes to Your Roof
The roof of your home doesn't just protect the inside of your home – it beautifies the exterior of your home. Let's face it, a bad roof job is not pleasing to look at. But, a high-quality roofing job helps the beauty of your home's exterior to come together.
You may also decide to sell your home someday, either to upsize or downsize. One of the first things buyers notice is the roof. They're looking for one that's free of leaks or visible damage.
If your roof needs replacing, it can bring the resale value of your home down by around $15,000. A roof that's in tip-top shape, on the other hand, will increase your home's resale value because it makes a great selling point.
The Advantage Difference for Your Residential Roof
You know the old saying 'they just don't make 'em like they used to'? Quite often, this has been applied to older homes. Older homes are often known for their ability to weather the storm and stand the test of time.
There's a reason for that. In the old days, old-fashioned workmanship prevailed. Carpenters didn't use nail guns or other high-tech machinery to build homes. They used a lot of grit and sweat and hand drove nails into wood and roofing materials.
That's how the professionals at Advantage Roofing do it. We drive every nail into each roofing shingle with a hammer. It does a better job of fastening the shingles tightly so your home is fully protected.
Let's look at the difference in the figures below.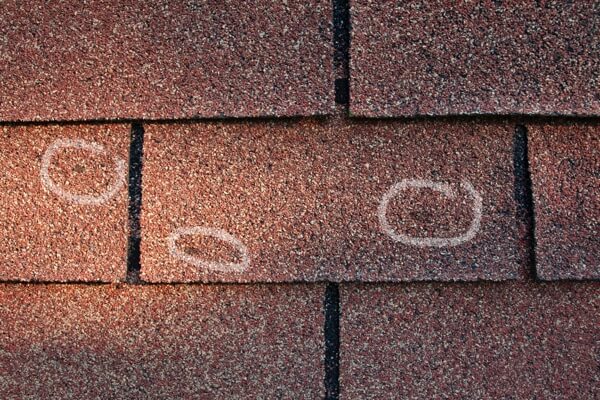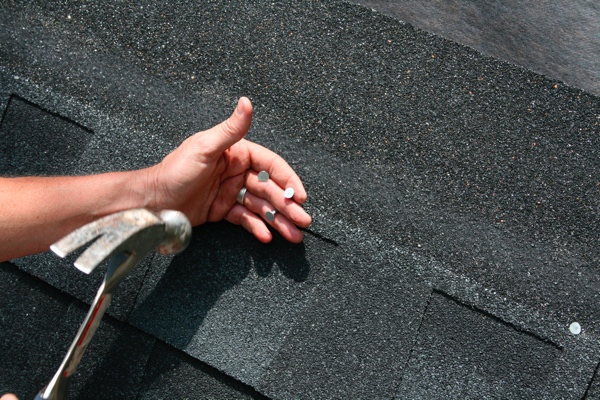 Figure 1: The nail is properly hammered into the shingle so that it's fully pressing against the shingle, forming a tight seal.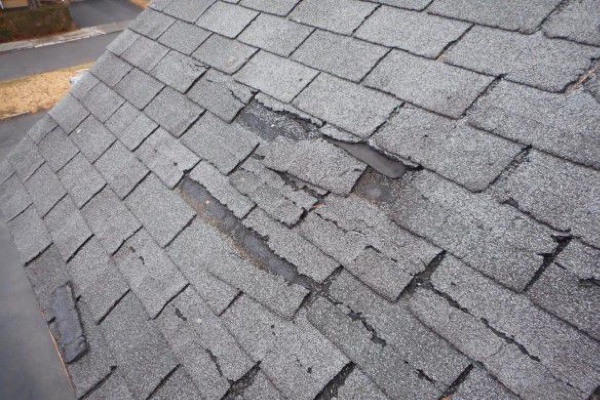 Figure 2: This picture shows what happens when a nail gun is used. It doesn't apply enough pressure and the nail isn't fully driven through so that the shingle has a tight fit. It's a guessing game to set the air pressure with this technique, and while the nail gun may drive 90% of the nails in and form a tight fit, the remaining 10% of poorly fitting shingles can prematurely wear down or blow away. Shingles can easily flop around during high winds. Are you willing to risk losing part of your roof to a windstorm because of poor workmanship?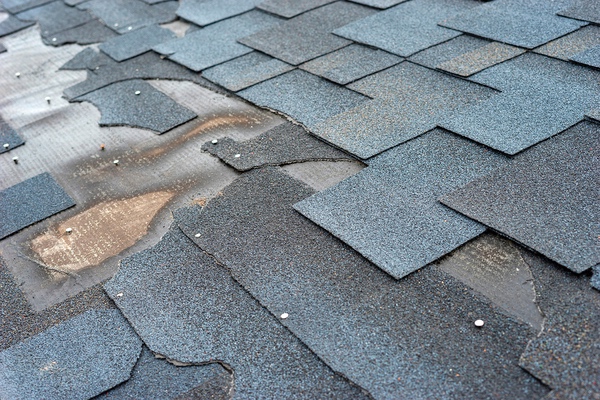 Figure 3: This illustration shows what happens when you use a nail gun and hit a soft spot. It's less resistant to the nail, so the nail can go completely through the shingle. This means the nail really isn't holding the shingle in.

What about staples?
Staples don't yield the same type of pressure against shingles that a roofing nail head does. It's easier for a shingle to tear at the 'head' of the staple. Once a shingle tears, it makes it easier for a staple to rip through the tear. When that happens, the shingle falls away from the roof.
Shingles that are stapled, rather than nailed, are more likely to blow away during a storm. And we all know how common it is for Katy and the surrounding Houston Metropolitan areas in Texas to experience not only violent thunderstorms but tropical storms and hurricanes, as well.
It's better to be safe than sorry. At least that's our way of looking at things.
We hand drive every nail in each shingle with a hammer. Our discerning eye can easily judge the amount of pressure that each nail needs to result in a tight seal of each roofing shingle. In regards to the three figures above, the only acceptable solution, by the way, is Figure 1, where each nail is expertly hand driven.
And while some contractors will charge more to do it this way, we don't. Quality craftsmanship and customer satisfaction are more important to us. We only install shingles the right way on residential roofing. You, your family, and your home deserve the very best.
Our Texas Service Area
The expert contractors at Advantage Roofing are proud to call Katy, TX home. While we're headquartered on Snake River Road in Katy, our service area extends well beyond Greater Katy.
We offer quality installation and repairs of residential roofing in:
Harris County
Katy
Bellaire
Pasadena
Stafford
Missouri City
West University Place
Memorial Village
Southside Place and all of Harris County
Fort Bend County
Houston
Pearland
Meadows Place
Orchard
Richmond
Weston Lakes
Rosenberg
Beasley and all of Ford Bend County
Waller County
Hempstead
Brookshire
Prairie View
Pattison
Waller and all cities in the county
Advantage Roofing – A Premiere Residential Roofing Contractor in Katy, TX
If you want residential roofing done right the first time, Advantage Roofing is the right company for the job. We're a leader in our field and in the Katy community.
Whether it's a general roof evaluation or roof inspection, a storm damage inspection, or it's time for a roof replacement, you'll be glad you called us.
We're dedicated to our profession and our community. We take our responsibility seriously with each roof we install. Remember that at Advantage Roofing, we do things the old-fashioned way but deliver modern solutions for your roof to protect your home against damage.
We'd love the opportunity to earn your trust and your business. Give Advantage Roofing a call today at 713-609-9319 for your FREE roof inspection!